We'd like to thank Mark for sharing today's story.
I had just moved to LA when I was pulled over by a police officer. My offense? Somebody took the registration tag off my license plate before I moved. My car was registered, though, so the officer let me go on my way, but told me I had to go to the DMV for a new tag. A few days later, I had an appointment at the local DMV in Santa Monica.
When called to the designated numbered stall to hand in my paperwork, I was met with a charge of 18 dollars. Sure, $18 doesn't seem like a lot, but my feeling was "Why should I have to pay for someone stealing from me". Giving my money to the DMV would be like being burglarized twice, except, for the second time, I just hand the thief cash.
I argued and argued, then argued some more – explaining my belief that I should not have to pay money because of someone else's criminal act. After talking to the third ranking official at the DMV, whom I think may have also been the janitor; I tell them they will never get 18 dollars from me, that I would rather be pulled over constantly than give the DMV the satisfaction of robbing me.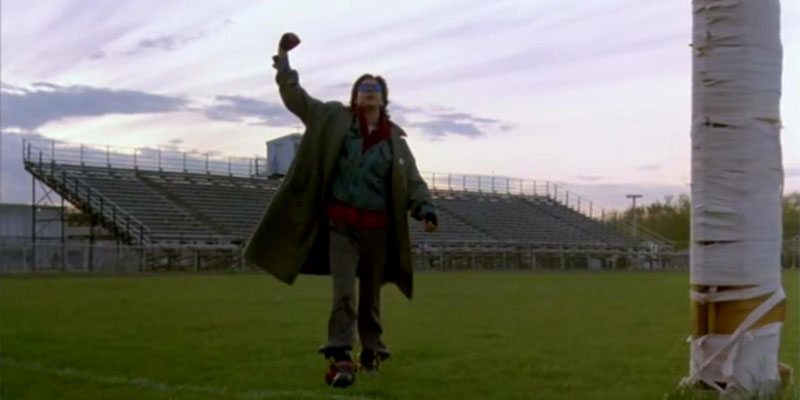 I stormed outside and did a "Judd Nelson from The Breakfast Club" fist pump in the air because I had just stuck it them, when I spotted a man bending down behind my car.
I raced over to see what this newest vandal was now doing to my vehicle, letting out a stunned "What the hell are you doing!?" when, up from a knee, stands Phil Connors himself – Bill Murray.
He gave me a classic, wry Murray smile as his eyes pointed down toward the license plate. I look down in disbelief; on it was a brand new tag. Seeing that his job was done, Bill patted me on the shoulder and hopped into his golf cart. As he drove away, he put up a proud "fist in the air" of his own, as he confidently said, "No one will ever believe you".