We'd like to thank Ken for sharing this story.
My girlfriend and I were seeing Jenny Lewis perform at the Music Farm in Charleston, SC. We came from Myrtle Beach, SC. We were aware that Bill Murray has a home near Charleston, co-owns their baseball team, and is seen a lot in the area; in all our years going there, though, we have never seen him.
While watching the opening act we heard Bill Murray was in the house, and we could not control our excitement (mainly me.) We saw him go up to the bar, and my girlfriend went over to meet him.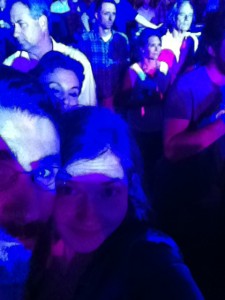 She said "I love you," and he hugged her and said, "You smell nice." Then I went over to him, told him I love and respect everything he's done. He said thank you and shook my hand. We both snapped some photos of him waiting for his drink.
Then as the concert began, we saw him a few feet away behind us. We took way too many selfies throughout the show while trying to get him in the photo. We were a bit tipsy and weren't being too incognito about it. Others around us were doing the same, except not being as obvious.
On our second round of these selfies, my girlfriend suddenly felt something wet on her back. She turned around and saw Bill Murray comedically trying to hide. Thankfully it was just water, but we deserved it.
This was our first big celebrity encounter, and because we both love Bill Murray so much, we went a little overboard. Lesson learned, but it was worth it! Everyone may have gotten their handshakes and blurry photos… but we can say Bill Murray threw water at us.