We'd like to thank Dan for sharing the following story.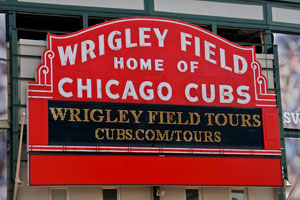 Several years ago, my friend and his dad took us to a Cubs game. Being rambunctious impatient teenagers at the time, we spent the majority of the game walking around the stadium.
We stumbled upon Bill Murray surrounded by a large group; we waited for the crowd to die down so that we could have a better chance to approach him.
Finally, the crowd diminished and I asked him if I could shake his hand. He replied to me with a cold stare and said, "No, you may not." Then he leaped towards me and gave me a very long hug.
This is one of my favorite personal moments; I still smile whenever I think of that encounter.