We'd like to thank Martin for this story:
Back in 1992, I was a young Advertising executive working at a very cool and very creative agency in New York City called Frankfurt Balkind, which did all kinds of cool work for the likes of Lifetime, MTV, Snapple, etc. We also had an LA office that did movie posters for big Hollywood productions.
One day, out of the blue, Bill Murray showed up in our NY office. He wasn't happy with the direction of the poster for the movie Groundhog Day, which was set to come out in a few months, and he wanted to see if the NY office had any more creative ideas. I sat at a little desk outside the conference room, which was all windows, so I had a front row seat watching Bill Murray get the creative team juiced and excited about the poster. There was, as to be expected, a lot of passionate dialogue and much, much laughter.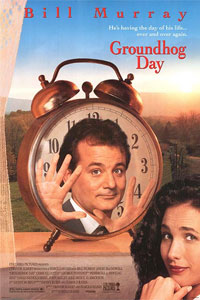 At one point during a break, Bill Murray walked up to the floor-to-ceiling glass doors and did a brilliant impression of Dustin Hoffman in the movie The Graduate, banging on the glass shouting "Elaine!, Elaine!". At some point in the afternoon, Murray and our creatives settled on the idea of Murray's character being trapped inside the face of a clock. They needed to take a quick Polaroid of the idea so it could be mocked up by the designers.
With me being right outside the conference room, I was called in to stand in as the guy trapped in the clock. Bill Murray said something funny to me but I was literally too star stuck to remember what the hell it was. But Bill Murray had made fun of me and that was amazing enough. I still have the Polaroid to this day and bore anyone who is willing to listen as to why I have a picture of myself holding my hands up looking like I am stuck in a clock.